Enjoy our delicious cuisine
Destination
All Destinations
All Destinations
São Miguel
Terceira
Lisbon
Faial
Clear Filter
Clear Filter

BALCONY
BALCONY is the perfect dining destination in Ponta Delgada to live gastronomic experiences influenced by the magnificent backdrop that showcases the Ocean and the Main Avenue of Ponta Delgada, because beauty is also food for the soul.
Grand Hotel Açores Atlântico
São Miguel
learn more

Atlântida Restaurant
Atlântida Restaurant serves the best Buffet in Ponta Delgada with a wide and diverse offer, where Azorean cuisine prevails.
São Miguel Park Hotel
São Miguel
learn more

Monte Brasil Restaurant
Over the Fanal Bay, boasting breathtaking views over Monte Brasil, the restaurant is the ideal place to enjoy tasty gastronomy, with a focus on the chef's reinterpretation of several regional dishes.
Terceira Mar Hotel
Terceira
learn more

Clipper
With incredible ocean and Pico Mountain views, the atmosphere of Clipper Restaurant & Bar elicits memories of past voyages.
Hotel do Canal
Faial
learn more

BASÁLTICO
In a prime location on the Gonçalo Ribeiro Telles Park, BASÁLTICO Restaurant & Garden Terrace has a renovated and relaxing design, where comfort and refinement pair with the surrounding nature.
Hotel Açores Lisboa
Lisbon
learn more

VAPORE
From the Latin word Vapor, VAPORE Bar & Lounge is the perfect spot to socialize in a setting influenced by maritime experiences in harmony with the hotel's theme.
Grand Hotel Açores Atlântico
São Miguel
learn more

Palhabote Bar
Discover Palhabote Bar, featuring an indoor area with live entertainment and a terrace overlooking the Ponta Delgada Marina. It stands as the perfect spot for a light meal or a evening cocktail. Additionally, indulge in our tea service, showcasing a delectable assortment of homemade cakes and scones.
Hotel Marina Atlântico
São Miguel
learn more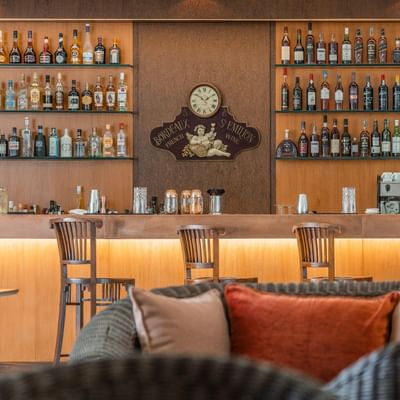 Bar Atlântida
Visit our cozy bar and enjoy a light meal or a refreshing cocktail by the pool.
São Miguel Park Hotel
São Miguel
learn more

Fanal Bar
The Fanal Bar is the perfect spot to socialize. It is a versatile space with live entertainment and an outdoor terrace, that meets the needs of both visitors and islanders, and ideal for an early evening drink or a light meal which can be served inside or outside in a comfortable and panoramic terrace over the ocean.
Terceira Mar Hotel
Terceira
learn more

TN Sushi Bar
Terra Nostra Garden Hotel
São Miguel
load more