Hot springs, pools and crater lakes
Terra Nostra Garden
Aside from its large Camellia Collection (over 600 species, some of which unique in the World) and other rare species, Terra Nostra Garden is known worldwide for its Thermal Pool, filled with volcanic water from the hot springs at a steady 40°C (104°F), rich in iron and other minerals highly beneficial for the skin and creating complete and unparalleled relaxation.
At Terra Nostra Garden, you can also find some architectural treasures, romantically inspired, such as the Avenue of the Ginkgo Biloba and lose yourself in pure magic. The Garden is free for guests of Terra Nostra Garden Hotel, where one can also experience the unforgettable Thermal Bath up until 10 PM.
Terra Nostra Garden is a world reference for plant lovers and has already been awarded by Condé Nast Traveller in the category of "Best Green Retreats."
Learn more
Cozido das Furnas (Furnas Stew)
In the volcanic Furnas Valley, alongside a lake on the island of São Miguel, you will find hot springs. In these steaming holes, set in a park - locals come to make a dish unique to the Azores - Cozido das Furnas (Furnas Stew). This dish is prepared by lowering the pot in a hot spring heated by volcanic steam. The food cooks slowly – for about 5 hours – and the only liquid used are the juices from the ingredients.

The hot springs work magic to the meat and vegetable stew boiled underground. The pots are full of layers of Pork, Beef, Cabbage, Kale, Potatoes, Tarot, Carrots, Chicken, Chourizo and Blood Sausage.

Cozido das Furnas is available every day at TN Restaurant.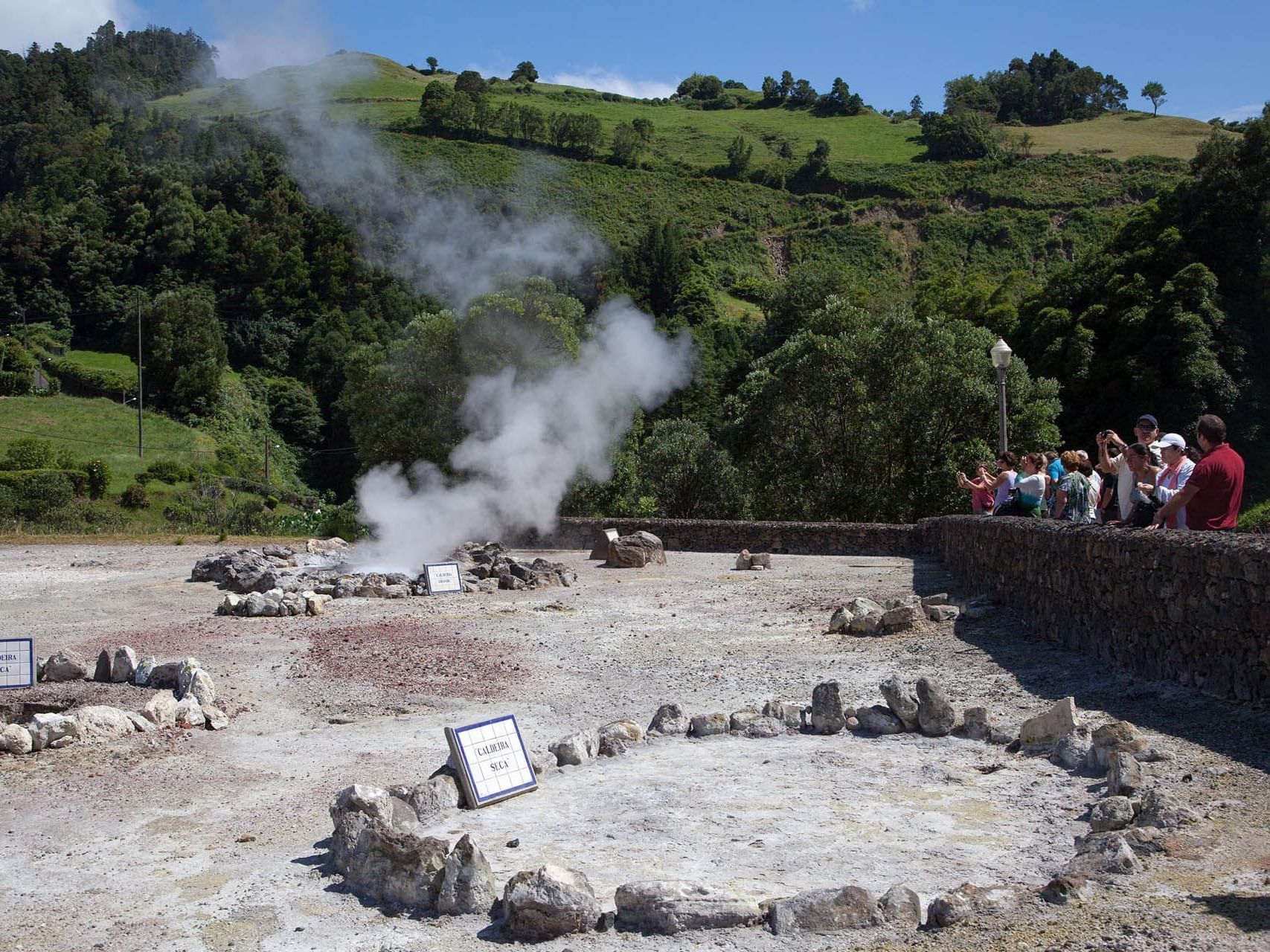 Poça da Dona Beija (Furnas – São Miguel)
Poça da Dona Beija (Paradise Pools) is notorius for its therapeutic qualities. The pools are composed by hot crystal-clear water with temperatures averaging 39ºC (102ºF). This location has been known and visited by both locals and tourists alike for many years.

On site there are bathrooms, changing cabinets and shower. There is a naturally made hot spring within a cave, which provides the water supply for the 5 pools, including an area in which you can immerge your feet and body, and part of the stream, which has a removable floodgate that allows a mixture of hot and cold water.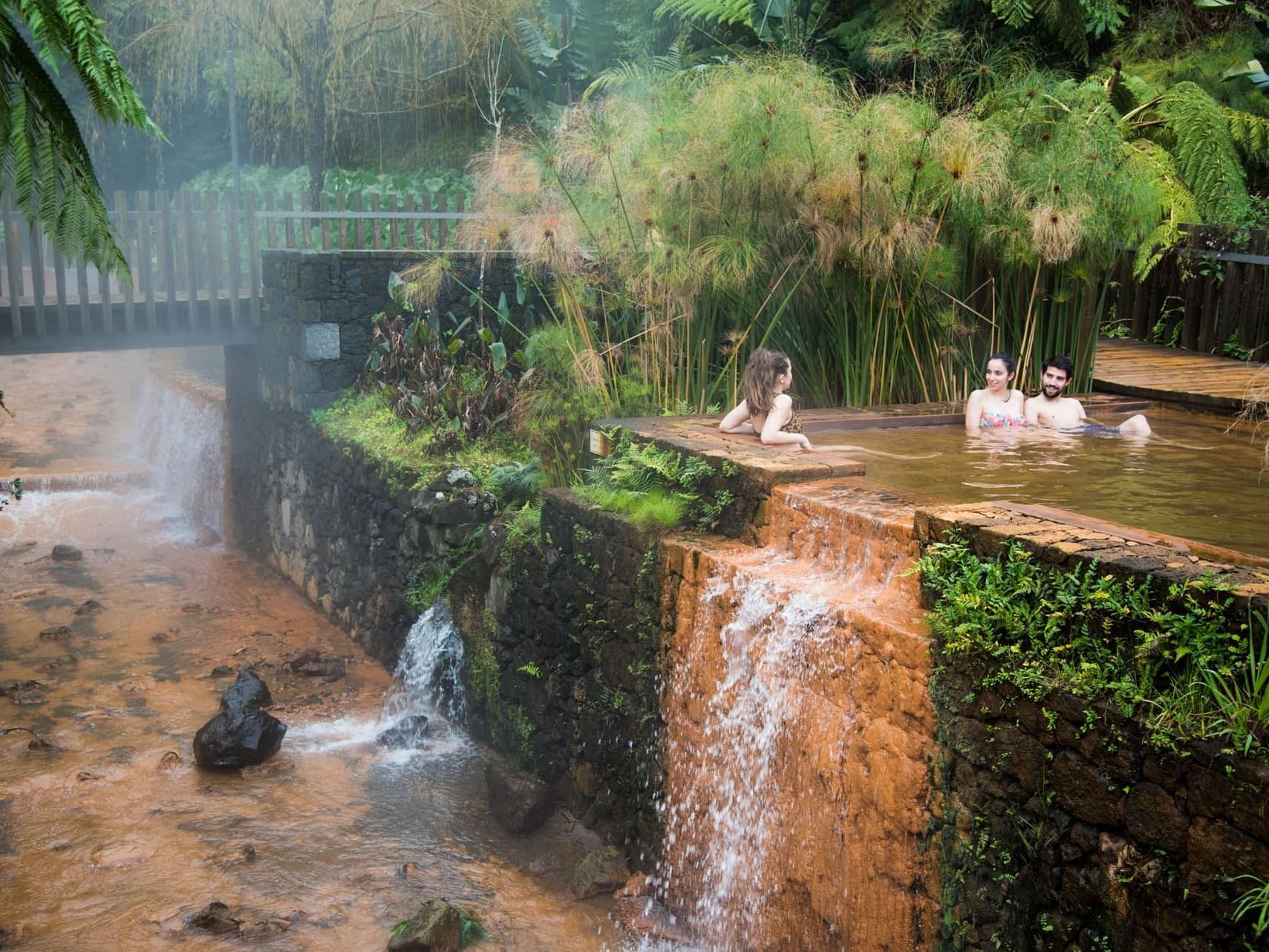 Lagoa das Furnas
Lagoa das Furnas is one of the three main crater lakes on São Miguel. The main point of visiting the caldera lakes in Azores is the magnificent view, but the Furnas lake also offers a unique attraction - Portuguese stew cooked in the pots dipped into the naturally boiling water of the caldeiras (hot springs) and then buried and left for several hours. Around the noon, you can see the staff taking the pots with food out of the ground. The Furnas Stew (Cozido das Furnas) has a specific taste but it's definitely worth a try!

There are multiple geothermal springs in the area - boiling water and mud gush out of the holes in the ground.

www.cm-povoacao.pt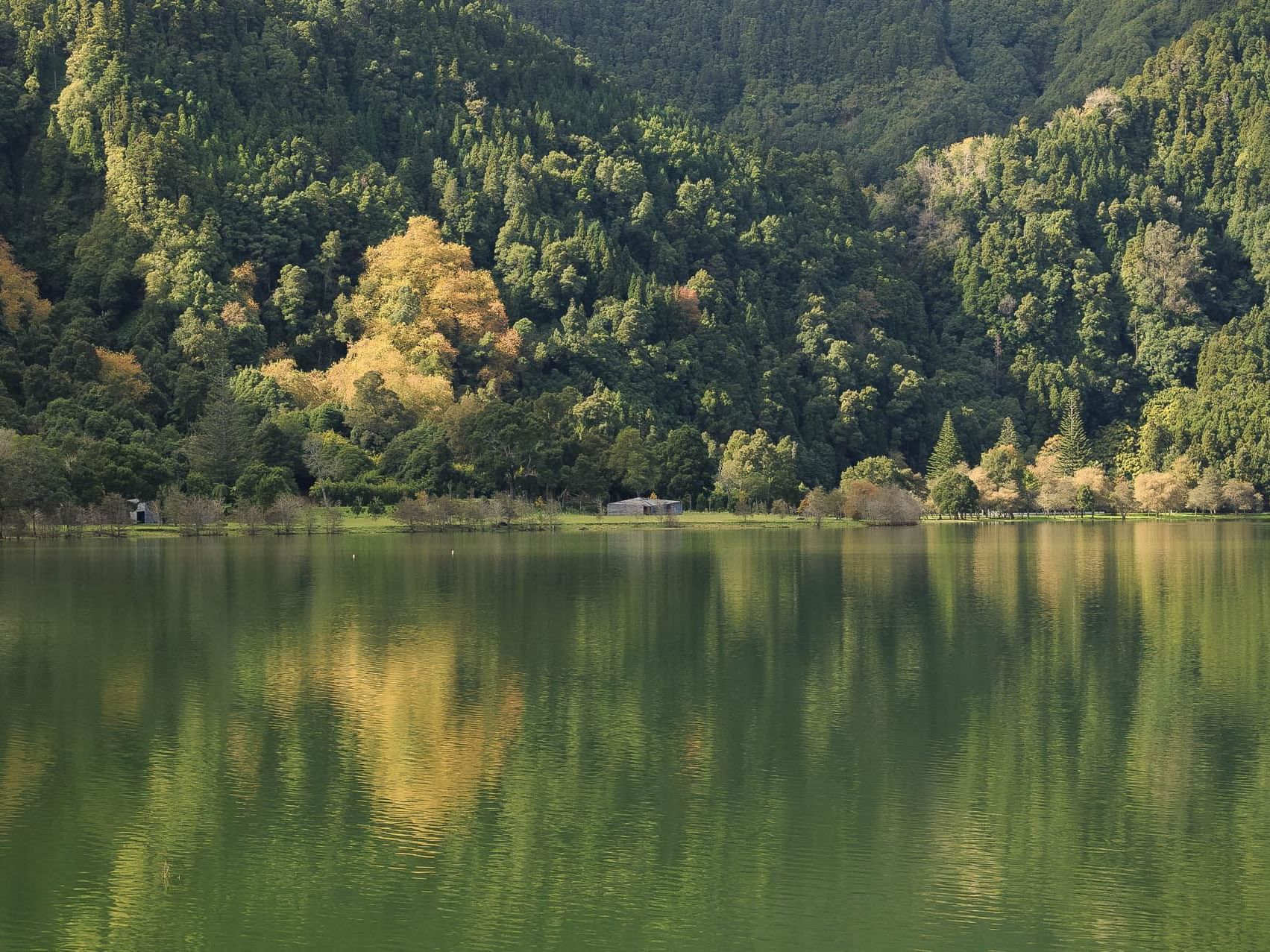 Gorreana Tea Plantations
Gorreana Tea recognized internationally as a "world class" tea is Europe's oldest, and currently only, remaining Tea plantation. Family owned and operated since 1883, when Ermelinda Gago da Câmara and her son José Honorato opened the factory selling the first production of teas under the Gorreana name.

Grown hundreds of miles away from industrial pollution in the lush emerald green hills of the Gorreana estate in the Atlantic island of São Miguel (Azores) without the use of herbicides, pesticides, fungicides dyes or preservatives and harvested fresh every April to September with a large celebration at the peak of the annual harvest, Gorreana's single estate organic green & black teas have been in continued production since 1883. A legacy of fine gourmet teas, all handpicked and produced pesticide free for 130 years, Gorreana's teas have remained a staple in European pantries for over a century.

www.gorreana.pt